Landscape & Hardscape Services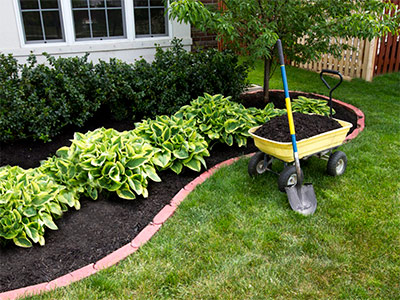 Over many years, God's Green Earth has helped clients make their dream landscapes a reality. Our landscaping and hardscaping services in Brielle, NJ, and the surrounding region will leave your site looking beautiful for years to come. Our business understands the significance of individualized attention. Therefore, we work hard to provide you with the finest solutions at the most reasonable rates possible. When working with us, you can expect nothing short of the most remarkable experiences and great outdoor spaces that increase your property's value and curb appeal.


Outdoor Living Areas
A home with a well-designed outside living space is more desirable and valuable. We focus on architectural and landscape design. If you want to add a touch of brilliance to your landscape, our trained landscape designers are here to help. Our experts have many years of experience designing and constructing outdoor kitchens, fireplaces, and covered spaces that provide shade and comfort, perfect for relaxing and hosting parties. Get in touch with us for custom patio design and installation services. Read More About Outdoor Living Areas »


Paver Walkways
You'll get your paver walkways quickly and effortlessly when you choose us. We are proven hardscaping experts to contact if you want beautiful paver walkways or other hardscaping elements for your property. We design and construct superior paver walkways for both commercial and residential clients. Due to their versatility, pavers can be used for a wide range of outdoor structures, including driveways, and walkways, allowing experienced landscapers like us to give our customers' outdoor spaces a unified appearance. Read More About Paver Walkways »


Paver Driveways
Both commercial and residential establishments can benefit from installing one of our stunning paver driveways. If you want this prominent feature of your property to serve its job while also being sturdy and aesthetically pleasing, you need someone who can develop a unique and tailored plan. We are here to help as a trustworthy and reasonably priced paver driveway installation business if you need such services. When you employ us, we'll ensure your new driveway perfectly matches the style of your house's facade. Read More About Paver Driveways »


Paver Patios
With our assistance, you can find the perfect paver patio design to complement and enhance your home, no matter the size or style of your property. We'll help you choose the ideal pavers for your patio from the many options in styling, material, color, and pattern. We will prepare the property for paver installation by grading it and cleaning any old concrete, so you have a stable and long-lasting paver patio on your property. Read More About Paver Patios »


Paver Stairs
We are experts in crafting aesthetically pleasing and practically valuable solutions for garden stairs. We draw on our in-depth understanding and originality to create distinctive outdoor areas. Because of the potential for slopes, many homeowners choose to level the land thoroughly before establishing a landscape. However, if you're set on keeping the different levels or tiers, stairs are a terrific method to improve safety while adding to the home's aesthetic value. We can build and install any garden or outdoor stairs. Read More About Paver Stairs »


Retaining Walls
We are experts in retaining wall planning and construction. When properly designed and constructed, retaining walls can significantly enhance the visual appeal of a yard. Additionally, these structures can level up slopes to make usable space where there was none before. You can utilize these new areas for greenery, water features, parking spaces, and other purposes. We also design and build piling walls, gravity walls, and anchored walls of all shapes and sizes on residential and commercial properties. Read More About Retaining Walls »


Decks
Deck design and construction are only two of our many hardscaping services. All the decks we build are unique, and our designers take great pride in making each one appear just right. We've always focused on making deck designs that are in tune with nature and complement any backyard layout. Whether you want a space for quiet reflection or a place to host friends, we can build a structure that fits your objectives and budget. We are a reliable deck designer that will finish on schedule and within your budget. Read More About Decks »


Landscape Design
Landscape design can make or break your outdoor area's appearance and property's cub appeal. Hiring professional landscape designers is the way to go if you want functional, practical, appealing, and sustainable outdoor spaces. Unity, symmetry, harmony, and sustainability are cornerstones of our approach to landscape design. We choose types, colors, and structures that harmonize into an evergreen and sustaining whole, whether for a traditional or modern, Asian, European, tropical, or sub-tropical garden. We handle all landscape design and planning aspects for residential and commercial clients. Read More About Landscape Design »


Landscape Installation
Properly designed and implemented landscaping can significantly increase your home or business value, allowing you to make the most of your outdoor areas. Business and residential clients can rely on our superior landscape installation services. Our professional teams take care of everything according to industry best practices, and we only utilize the highest quality materials. Every job we take on is met with a promise that we will do it to the client's satisfaction, if not better. Read More About Landscape Installation »


Low Voltage Lighting
Your landscape's aesthetic value after dark hinges on more than its condition during the day. This can be accomplished by strategically placing low-voltage lighting fixtures throughout your garden. We upgrade existing lighting systems and install the finest low-voltage light fittings for brand-new landscapes. We will advise you on the best outdoor goods to use and install properly. LED light bulbs and fixtures are good for the environment and your wallet with no compromise on quality. Read More About Low Voltage Lighting »

We are qualified to meet all your landscaping needs, from conception to completion. Our dedication to excellence, use of premium materials, and use of the most modern landscaping techniques afford our clients excellent value. If you want additional information about landscaping and hardscaping services and need these installations on your property, please call Gods Green Earth at 732-528-5444. You can also send us your requirement via this Online Form, and we will call you back soon to discuss your needs and project details.